Warehouse Conversion Creates Collective Workspace
By Carly Nemtean
Located in the heart of Toronto's Castlefield design district, the Collective Workspace is building something meaningful for a growing community and their needs. Converted from an industrial plastics factory in just six months, the 13,000-square-foot building is a coworking and lifestyle space designed for architects, interior designers and builders. The Collective is set up to foster collaboration and communication, and features a 3,000-square-foot materials library, wellness space, storage room, and board and call rooms.
Due to its size and scale, zones were created through the use of different flooring. Material selection was influenced by the need to minimize ambient noise levels and reduce reverberation in coworking spaces. Other considerations were wayfinding and the clear identification of office areas. Flooring patterns provide key visual cues to the circulation path and delineate office spaces from communal zones.
A key project challenge was rectifying the pre-existing concrete floors. The uneven substrate needed to be levelled for a cohesive installation since the different flooring types had various thicknesses.
Reception Area
Entering the Collective, users of and visitors to the space are greeted by a bold and dynamic pattern combination of rhombus-shaped porcelain tiles in various shades of grey, bordered by a dark grey porcelain tile. Transitioning into the lounge area, light oak engineered hardwood flooring elevates the atmosphere.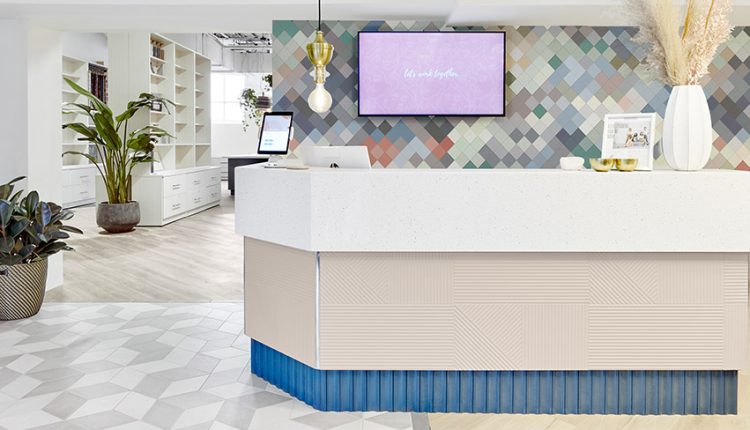 General Flooring
A wide vinyl hardwood plank with distinct grains, knots and imperfections was chosen for its rustic charm and ability to hide future marks. It was laid in a diagonal pattern to direct foot traffic through communal spaces. Thresholds were eliminated for barrier-free access by butting up different ceramic and porcelain floor tiles to the vinyl planks.
Kitchen
A playful, geometric black, white and grey ceramic floor tile outlines the shared kitchen and transitions into the diagonally laid vinyl hardwood floor found throughout much of the space.
Materials Library
The materials library is an area for designers to feel inspired, access samples and order products. Commercial carpet tile was installed in a herringbone pattern with darker grey and brown carpet tiles placed around the perimeter to encase the millwork. The inlay of carpet tiles throughout the general area contrasts the darker tiles by introducing a lighter grey. A key reason for this choice in flooring was to provide a reduction in noise from foot traffic. As well, the tiles are durable, easy to maintain and install. If a tile does get damaged, it can easily be replaced.
Carly Nemtean is the principal designer and co-founder of Carriage Lane Design-Build Inc., which specializes in interior renovations and additions in the Greater Toronto Area. The interior design and custom build firm is located inside one of the four private suites at the Collective Workspace. Carly can be reached at 905-625-1444 or [email protected].