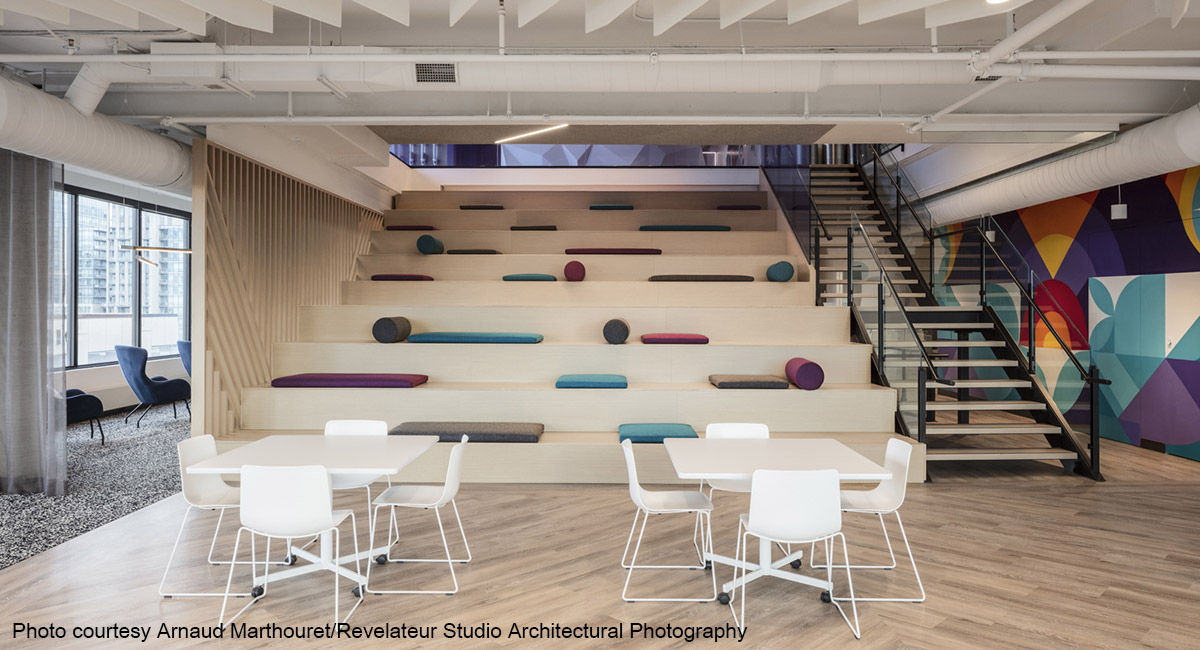 Tech Office's Flooring Balances Interior Design
By Tatiana Soldatova & Kseniya Filippova
The client, a global leader in employee engagement technology, required a space that would improve the function of a conventional office and support the neurodiverse needs of its staff. Syllable Inc., in collaboration with X-Design Inc., was tasked with converting a 55,000-square-foot shell into a dynamic office environment for a team of more than 450 employees. An anthropologist was hired to assess the client's work culture and ascertain what factors contribute to staff's productivity, engagement and well-being.
A central staircase serves as both a statement piece and practical element. Carved into the existing floor plate, it connects all three levels and serves as a main hub that facilitates movement between floors while also promoting spontaneous interactions. All zones extend from this hub like branches of a tree creating an expansive network canopied under one roof. While the office programming is siloed on each floor, the design intent was for every level to be distinctly different in terms of mood and atmosphere.
The original flooring was an exposed concrete slab. Wood-look luxury vinyl plank was installed on top in high-traffic areas like hallways and main gathering spaces, such as the café, town hall and hidden speakeasy. The vinyl planks were laid in different patterns in those spaces to set them apart from the main corridor — a classic basket weave in the café, a custom diamond pattern in the town hall and an elegant herringbone in the speakeasy. The use of pattern provides visual continuity as one walks through the office, while the slight difference between each space subconsciously denotes a social activity and imparts subtle textures.
Work zones are designated by the use of carpet from Interface and Mohawk. Carpet patterns and prints vary depending on the space to either impart vibrancy or a peaceful atmosphere. The unifying factor is the grey and cream colour scheme, which was the basis for the entire design.
This approach to the flooring balances the client's saturated brand colours (bold jewel tones) and floor-to-ceiling hand-painted murals by celebrated Toronto artists. The flooring also adds to the calming effect provided by other neutral elements like the light-coloured woods selected for walls, furniture and ceiling treatments. White is also featured extensively, notably in the cafeterias and common spaces, which imparts a feeling of cleanliness and brightness that staff requested.
All finishes were employed with sustainability in mind. Carbon-neutral manufacturers were specified and 50-metric tons of carbon dioxide were offset by the flooring alone.
In total, more than 26 different floor finishes were employed to create a dynamic space that drives engagement and innovation. The plethora of floor coverings also mirrors the neurodiversity of staff and their various work activities.
Tatiana Soldatova is principal and co-founder of Syllable Inc., a people-centric design firm focused on forward-thinking offices, boutique retail and multi-unit residential properties. Her role is managing business strategy and operations, mentorship and driving excellence within the firm. Kseniya Filippova is director of interiors at the Toronto-based firm. She meticulously manages teams to ensure the delivery of high-quality designs that are on budget and on schedule, while building strong relationships with clients.