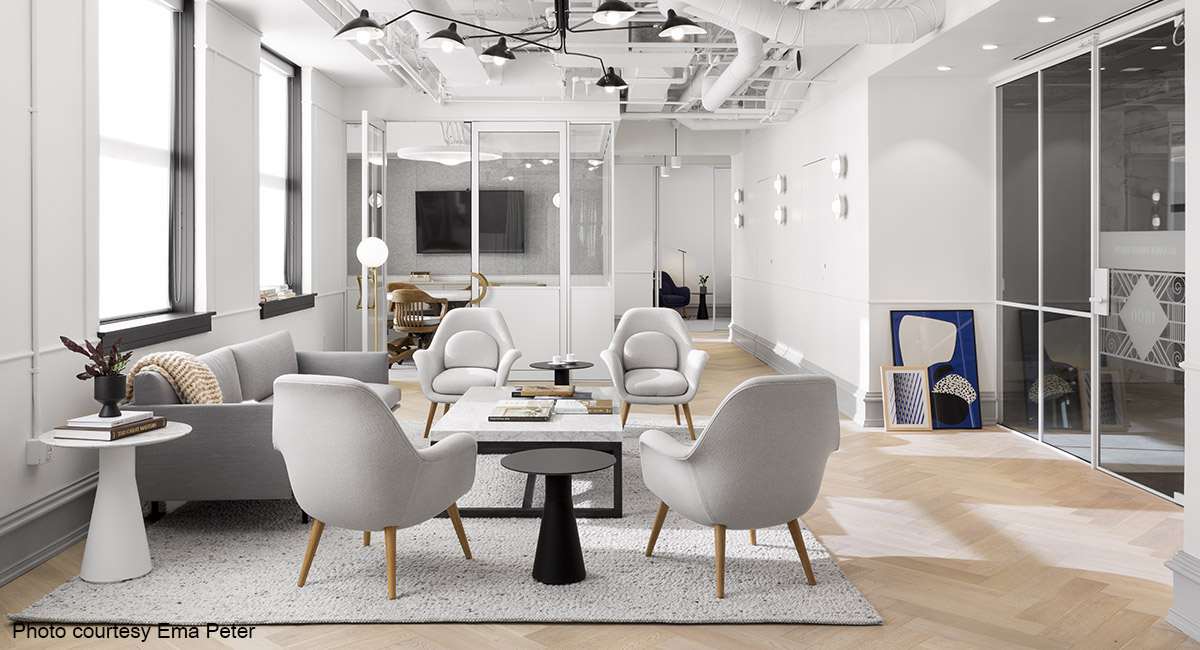 'Resimercial' Design Shines in Office Makeover
By Janay Koldingnes
BlueArck isn't a typical private equity firm, so it should come as no surprise that in a year when most businesses shied away from undertaking a major office expansion, the unconventional company embarked on one. BlueArck needed more space and the art deco Marine Building in downtown Vancouver was the perfect fit, albeit it needed an injection of personality. (The office was originally a blank canvas with raw concrete floors and open exposed ceilings.) The company enlisted local design firm Edit Studios to re-envision it, resulting in an environment that eschews the conservative design aesthetic generally associated with wealth management firms in favour of a more modern and welcoming approach. The space mixes the elegant comfort of French country with the sophistication of a contemporary Parisian office. This is a reflection of BlueArck's corporate culture and its desire to foster a diverse and inclusive work environment.
From the start, the design goal was to balance the art deco architecture and bones of the building with a mix of 'resimercial' inspired materials. This hybrid approach of imbuing commercial spaces with a residential feel employs 'soft' design features that provide sound absorption as well as comfort and privacy. To achieve this, the dark woods and leather chesterfields of the typical private equity office were swapped for light oak herringbone wood floors and luxurious drapery. A muted colour palette was chosen, providing a comforting mix of neutrals with a rare pop of BlueArck's branding blue. The move toward a warmer atmosphere was deliberate to address the imbalance between the number of men versus women that the profession usually attracts.
The herringbone engineered flooring is woven throughout all common areas. Inside the private offices, a switch modular carpet tile was made in the same tone as the wood with a pattern also inspired by art deco motifs from Shaw Floors.
The main entrance reveals a reception area that feels more like a living room for family and friends. Likewise, the modern bar is outfitted with all the comforts of home highlighted by book-matched black and white marble with gold accents. Locally produced area rugs greet guests and provide a coziness to the space.
Inspired by the hidden passageways in an old French château, the office's inner workings are tucked behind doors that are masked by intricate mouldings. Crown moulding and wainscotting accent the walls, while modern furniture pieces, rich marbles and traditional French light fixtures juxtapose old with new.
The process of transforming the space started in March 2020, right as British Columbia went into lockdown due to Covid-19, and businesses and governments were scrambling to adapt to the new reality of working remotely. Forced to adapt themselves, the Edit Studios team immediately transitioned to working online. Construction partner Etro Construction began using 3-D scanning tools to give the design team project updates without the need for in-person site visits. With international supply chains disrupted by the pandemic, Edit Studios moved quickly to find and source replacement products that could be found locally. This included materials like the herringbone wood floor, as well as area rugs, glazing partitions and stone countertops.
Janay Koldingnes is the founder and design director of Edit Studios. Based in Vancouver, Edit Studios is a group of talented designers and brand enthusiasts with expertise in interior design, graphic design and architecture. BlueArck's office renovation garnered the firm a 2021 IDIBC Shine Award, presented by the Interior Designers Institute of British Columbia.